Shop Top-quality Epoxy Flooring Abu Dhabi
Upgrade Your Commercial Space With Our Best Epoxy Flooring
Are you looking for a way to upgrade the flooring in your commercial space? Look no further than Abu Dhabi Vinyl Flooring's selection of high-quality epoxy flooring Abu Dhabi. This flooring is an ideal choice for commercial spaces due to its longevity and resistance to wear and tear. This flooring is also slip-resistant and easy to clean, making it a safe and practical option for high-traffic areas. Plus, its long-lasting durability makes it a cost-effective investment for your business.
Whether it's for a warehouse, showroom, or office space, our team of experts also helps you choose the best flooring option for your specific needs. We offer a wide range of styles and colors to match your brand's aesthetics and create a professional and polished look. Contact us today to learn more about our selection of epoxy resin flooring and how we can help upgrade your commercial space.
Get Hassle-free Epoxy Flooring Installation Services In Abu Dhabi With Our Professionals
If you are considering upgrading your flooring in Abu Dhabi, epoxy flooring may be the perfect solution. Not only is it a durable and long-lasting option, but it's also an attractive and versatile choice for any space. However, installing flooring in your commercial areas can be a time-consuming and complex process. That's why it's essential to hire a team of professionals who provide hassle-free installation services.
We are the best supplier and installer of flooring in UAE. So, you can get our expert flooring installation services for both residential and commercial spaces. Our team of professionals has years of experience in flooring installation and can ensure a smooth and seamless installation process. Our team works around your schedule to minimize any disruption to your daily routine. We pride ourselves on providing the best customer service and keeping you informed throughout the entire process. 
From the initial consultation to the final installation, we will be with you every step of the way. At Abu Dhabi Vinyl Flooring, we believe that high-quality flooring installation should be accessible to everyone. That's why we offer competitive pricing and work with you to find the perfect option to fit your budget.
Endless Benefits Of Epoxy Floor Finishes 
There are many benefits of the epoxy floor which makes it a great option for your home. Some of these benefits are: 
It is incredibly resistant to chemical damage, making it ideal for businesses that use a lot of chemicals.

It is also very durable, meaning that it will last for many years with proper care and maintenance.

Cheap Epoxy flooring

UAE is very easy to clean and maintain, and it will not require any special cleaning products or procedures.

It is slip-resistant, making it safer for employees and customers alike.

It is available in a wide range of colors and designs, so you can create a unique look for your business.
If you are also considering flooring for your home, then you should definitely buy it from Abu Dhabi Vinyl Flooring. We are one of the leading epoxy floor suppliers in Abu Dhabi that offer high-quality and durable indoor and outdoor flooring in UAE at the most competitive prices.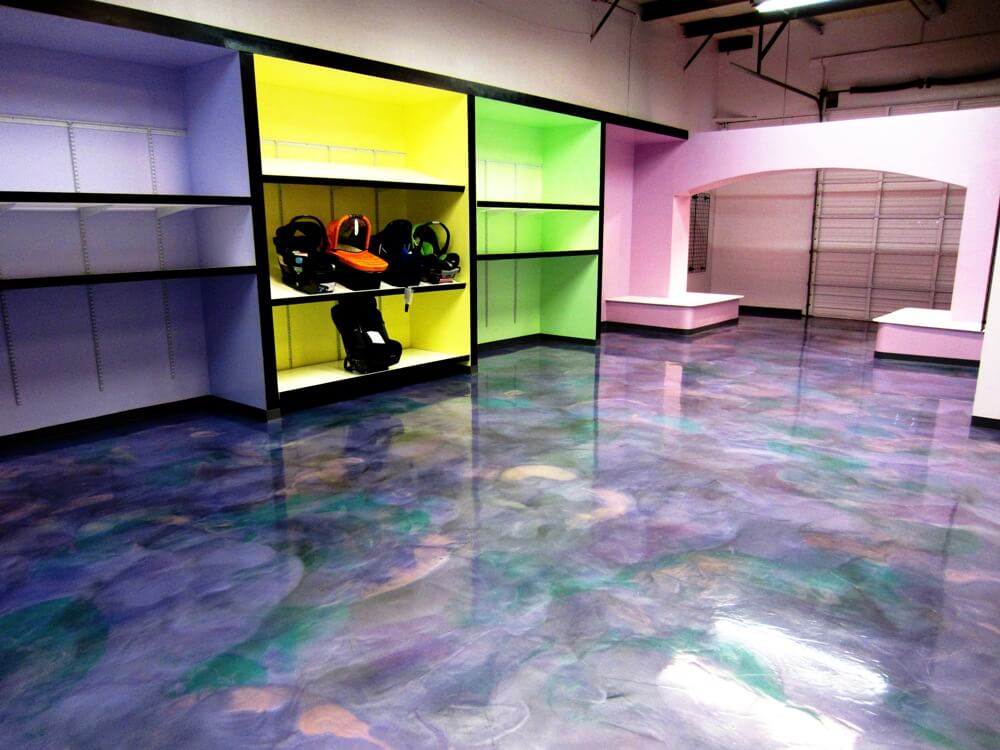 Flawless Flooring Solutions for Your Commercial and Industrial Spaces
An epoxy floor is a remarkable flooring solution that stands out for its exceptional durability and versatility. The construction process of epoxy flooring Dubai involves a unique combination of epoxy resins and hardeners, creating a solid, seamless, and non-porous surface. The result is a flooring system that is resistant to impact, abrasion, and chemicals, making it perfect for high-traffic areas like in hospital flooring, and commercial spaces. 
Abu Dhabi Vinyl Flooring is one of the leading epoxy coating companies in UAE that specialize in providing flawless flooring solutions that meet your specific needs and preferences. Whether you want a solid color or a decorative design, we can help you transform your Abu Dhabi property with a long-lasting and beautiful epoxy floor.
Why Choose Us?
Abu Dhabi Vinyl Flooring provides a wide range of flooring options for both homes and businesses. From vinyl to epoxy flooring near me, we have a variety of products that will meet your needs and fit your budget. We also offer the best flooring installation services in the entire United Arab Emirates.
If you are considering flooring for your home or business, contact our team company today. We will be happy to provide you with a free consultation and estimate for your project.